UPCManager© is a full featured UPC collection and management application supporting the latest Food and Nutrition Service (FNS) and National UPC Database (NUPC) standards. The application makes your collection process easier through an intuitive interface and industry standard design. UPCManager© supports the widest array of PC hardware and screen resolutions making it a ready to run solution for your WIC Program.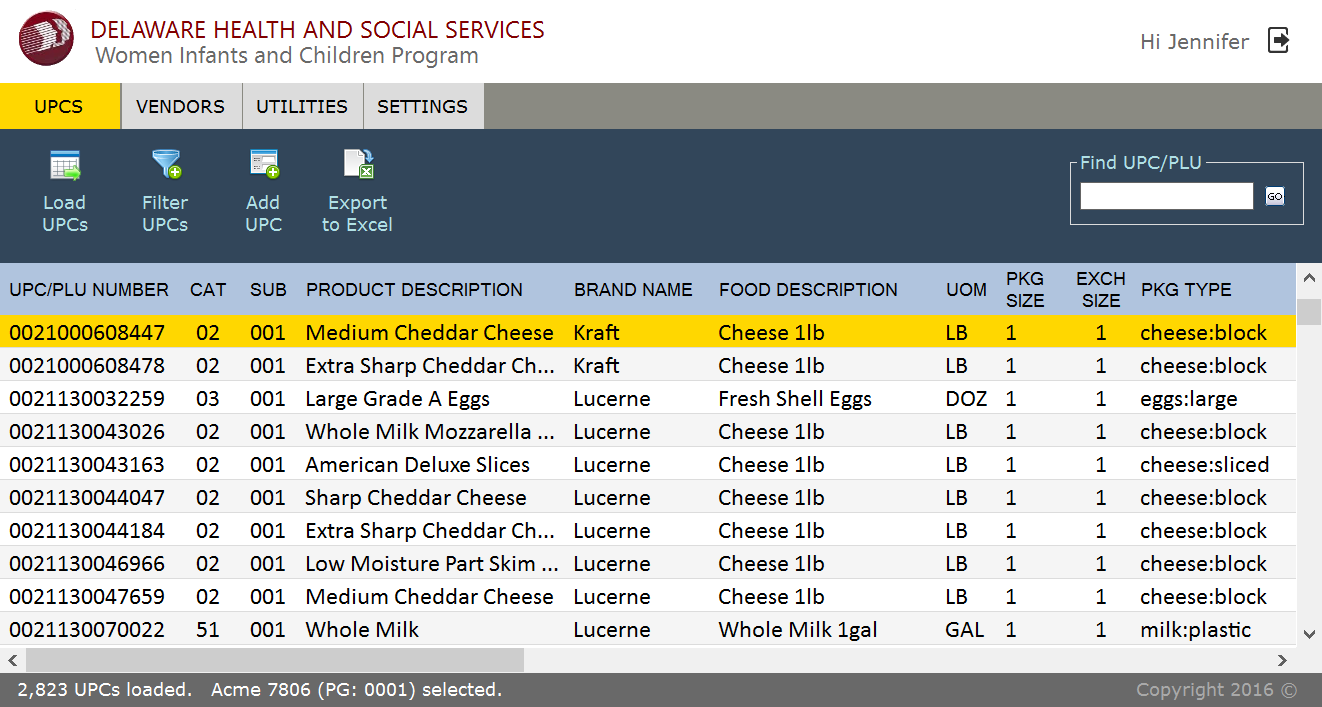 UPC/PLU Summary Screen
Features
Intuitive, easy to use interface
UPC collection and vendor reference
User and role based security
Collects NUPC database required fields
Collects product shelf prices by vendor peer groups with averages
Creates NUPC and MIS upload files
Exports UPC and vendor tables to Microsoft Excel™ for analysis and reporting
Integrates laser bar code scanner input with search and auto-add capabilities
Converts UPC-E and UPC-A codes to standard EAN-13 codes during data entry
Current category and subcategory tables with unit of measure, package size, short description and exchange size defaults
Displays vendor details including contacts, peer group, and directions to stores powered by Google© Maps
Filters on UPC and vendor database fields for quick organization
Automatically backs up database when exiting
Easily shares database among co-workers
Utilities for database backup and restoration including the capability to update with custom SQL commands
Designed for laptops and tablets running Microsoft Windows™ 7, 8, or 10 (32bit or 64bit). Uses royalty free Microsoft Access™ database engine.
Customizable for your WIC Program
Sample Screens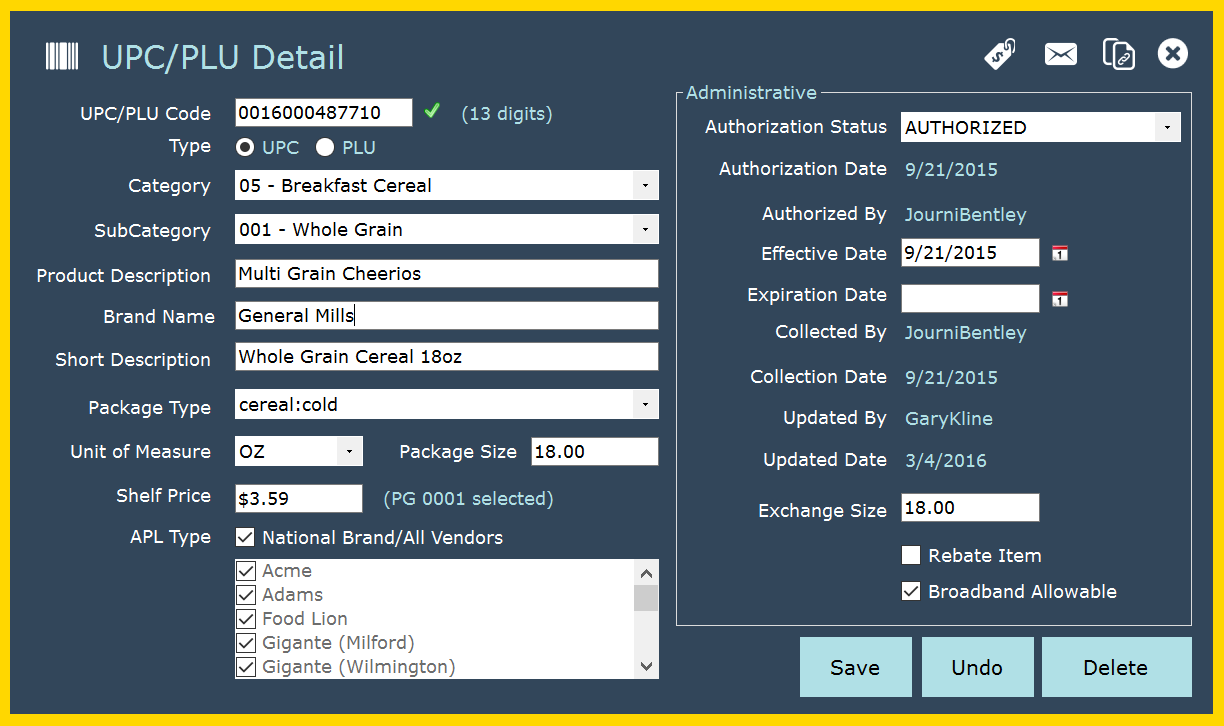 UPC/PLU Detail Screen
The UPC/PLU Detail dialog displays collected information for the selected UPC or serves as the data entry screen for new UPCs.

Data collectors scan the UPC with an attached scanner or manually key the number.

National standard table values are used for NUPC consistency. Mandatory NUPC fields are collected. Data integrity is enforced through prefilled default values where possible with field level edits prior to saves.

Non-standard UPC numbers are converted to the required EAN-13 format.

Administrative fields are partitioned and only available to authorized personnel.
The Vendor Detail dialog (right) displays information on the selected vendor. The dialog shows the store contact information, peer group, location, and APL Type (used to identify store chains and tailor APLs).

The store location is displayed on a map with driving directions provided via the Google© map engine.
Filtering and Utilties
UPCs and stores can be filtered by a variety of criteria including Category, Subcategory, Authorized or Unauthorized, APL Type, UPC or PLU only, Store Owner, or County allowing quick editing and data organization.

Database utilities allow mass data updates by Administrators, backup and restore, and upload to the MIS or NUPC systems.
Contact Information
Download the UPCManager© Product Sheet (533KB) here.

For more information, or to obtain a quote tailored for your WIC Program, contact: UPCManager Sales

On-site installation, training, guidance and support included in the package price. Additional services available.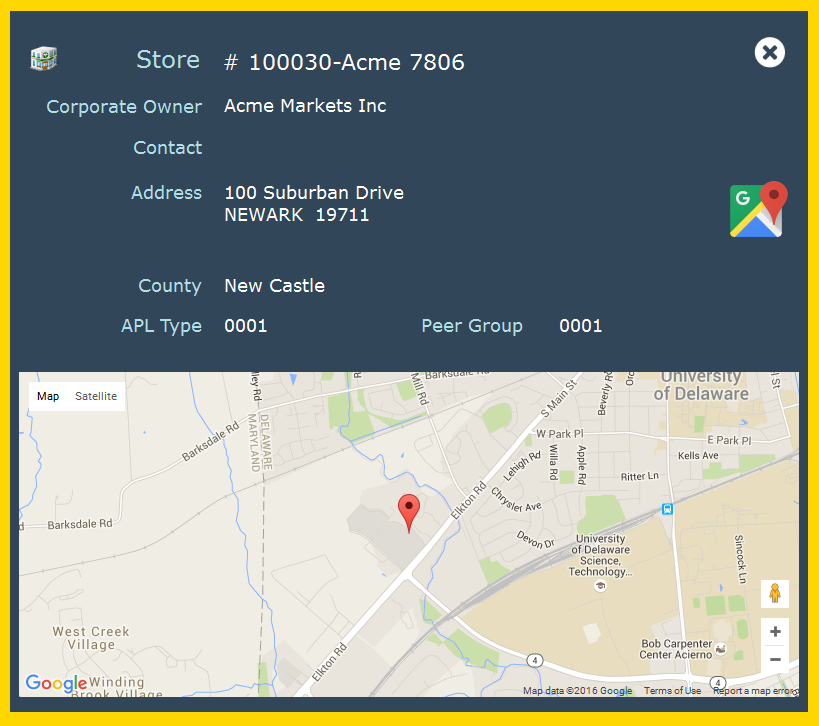 Vendor Detail Screen
UPCManager© is a proprietary product licensed by Honey Badger Studios, Inc.